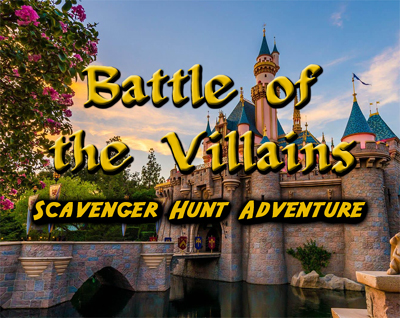 Battle of the Villains
Experience Disneyland like you never have before - a unique adventure the whole family can enjoy (yep, it's even for adults!)
The Battle of the Villains is a downloadable adventure to be experienced INSIDE Disneyland. With over 20 years professional experience in designing live adventures, this newest edition to our collection is to date the most unique. Your fun is actually divided into two entirely different phases. In Phase 1 you'll begin with a long list of fun tasks to complete and messages to decode while you enjoy the park with your family and friends. It will do a lot more than just help pass the time while you're waiting in the long queues for your favorite attractions...you'll be earning points for every tasks completed! The more tasks you complete, the more you'll be prepared to take on the three different villains in Phase 2!
This experience was designed to allow you to enjoy the park, but have EXTRA things to enjoy along the way (again, especially in those longer queues.) There is no definitive start time or end time. YOU get to decide how much of the adventure you'd like to complete based on your own day at the park! We believe that flexibility is key when designing park adventures, allowing YOU to decide how to maximize the fun based your own family and friends!
Once you've completed enough tasks in Phase 1 (according to your own gauge), you can then enter Phase 2 - the actual Battle of the Villains. Included are THREE separate, short Choose-Your-Own-Adventure style stories to go through! Each one details a short adventure as you navigate through the story NOT just making decisions in the story, but completing more tasks along the way!
WATCH OUT FOR CURSES!!! Each villain has their own curse to throw your way within the story! These curses will affect your stay in the park as you attempt to defeat them! The more tasks you complete in Phase 1, the better protected you'll be against the curses and the longer you'll last overall in your fight!
DOWNLOAD THE BATTLE OF THE VILLAINS NOW - CLICK HERE!
FAQ's
What age group was this designed for?
When this adventure was designed, we had the whole family in mind. We aim to create adventures that the family can do TOGETHER! There will be things for young children to participate in and there will be tasks that are tailored for adults. YOU get to choose which tasks you'd like to complete, in the order that you'd like. This is also a great activity for a group of adults wanting to have some light-hearted fun and see the park through some fresher eyes!
How long will it REALLY take to complete?
The bulk of your time will be spent completing the different fun tasks from the Battle List. These tasks can be completed all over the park and in any order that you'd like. You can complete them all or only a few. However, the more you complete, the more equipped you'll be if you want to take on the villains in Phase 2.
Will I have to do any preparation ahead of time?

Yes. Once the document is printed (32 pages), you'll likely want to recruit the assistance of a friend or family member not going with you to the park to help assemble the pages. It will intentionally take VERY little assembly, but it is necessary (pretty much cutting out some pieces and putting them in a few different envelopes.) You can do it yourself, but then you'll likely ruin some of the fun by seeing things ahead of time!
This product is a digital item in standard PDF format. It is made available immediately on order completion via a link to download.
If you have ANY questions about the Battle of the Villains, please ask away! We'd love to hear about your future trip to Disneyland and to see if this adventure is a good fit for your stay in the park!