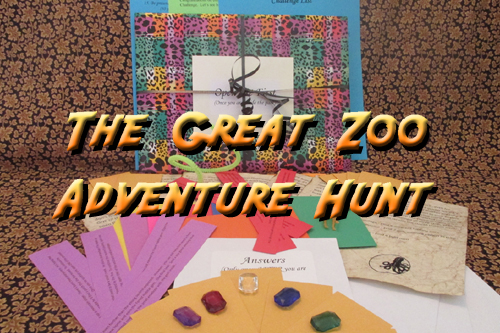 The Great Zoo Adventure Challenge
A GREAT opportunity to create a one of a kind zoo family memory!
Visiting your local zoo now can be more fun and exciting than ever before (currently 139 versions - one for every major zoo in the US - visit our Etsy store for a zoo near you!) The Great Zoo Adventure Hunt at the Detroit Zoo was designed by a professional themed treasure hunt designer and is mailed right to your door. Simply take the colorfully wrapped package with you to the zoo, open the small starter envelope once you're inside and you're OFF! There is NOTHING to set up - ALL of the materials are included. That's right…because you didn't have to spend the countless hours creating this elaborate hunt, YOU get to enjoy it with your family!
So…what exactly IS the Great Zoo Adventure Hunt at the Detroit Zoo and what comes with it? Opening the large package will reveal a two page mega list of fun tasks to complete once you are inside the zoo. The more tasks you complete, the more points you'll earn enabling you to open different colorful envelopes, each containing an opportunity to earn one Habitat Gem. You see, the famous zoologist Dr. Animus Penderghast, has lost pages to his precious journal. Each page details how to help a different animal from a different world habitat. Helping that animal will earn you the Habitat Gem! Can you and your family collect all seven Habitat Gems before your stay at the zoo is over?

Colorful envelopes…antiqued journal pages…and what are you supposed to do with that pipe cleaner? Or the plastic animal? You'll just have to open the right Habitat Envelopes to find out!
How long does it last? As long as you'd like. Start when you like. Stop when you like. Start, stop, then start up again, if you like. You can even visit the zoo another time and pick up where youleft off!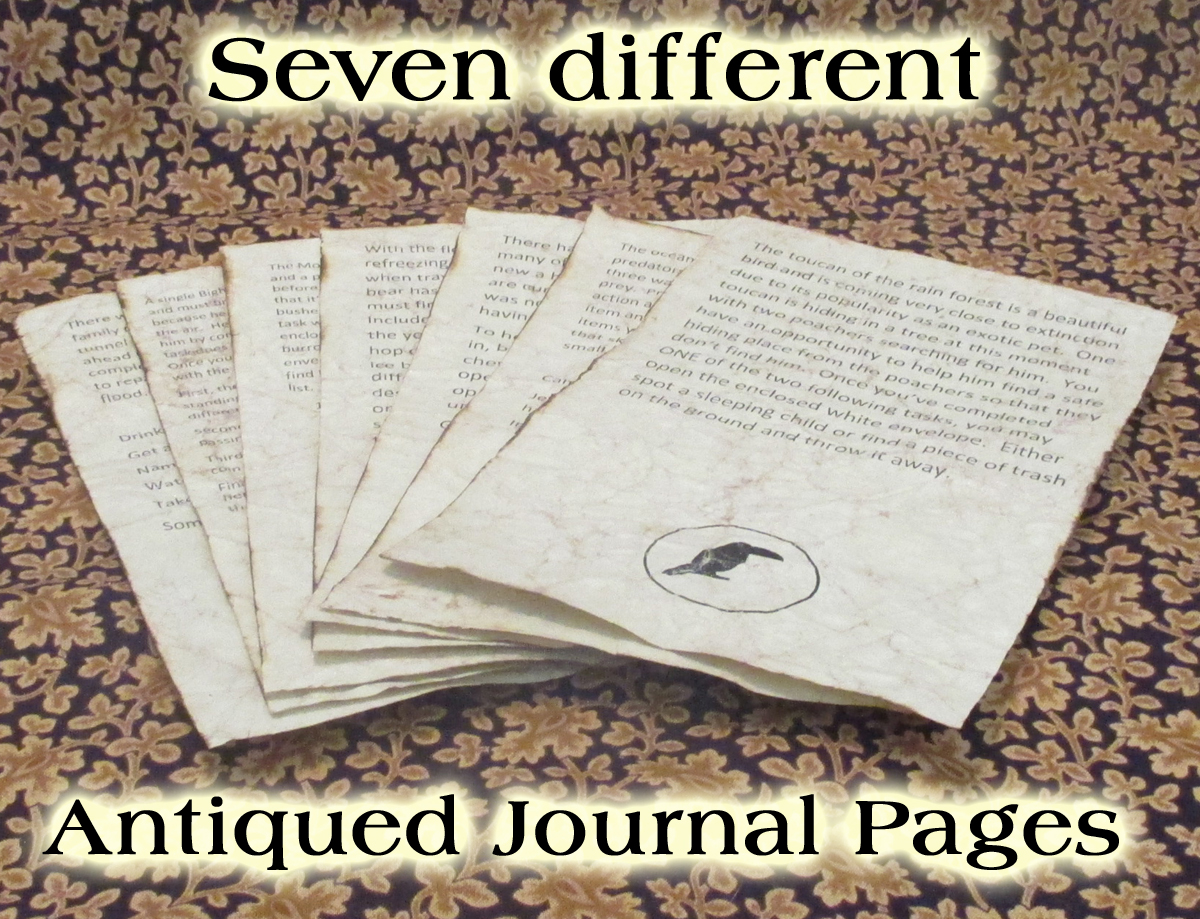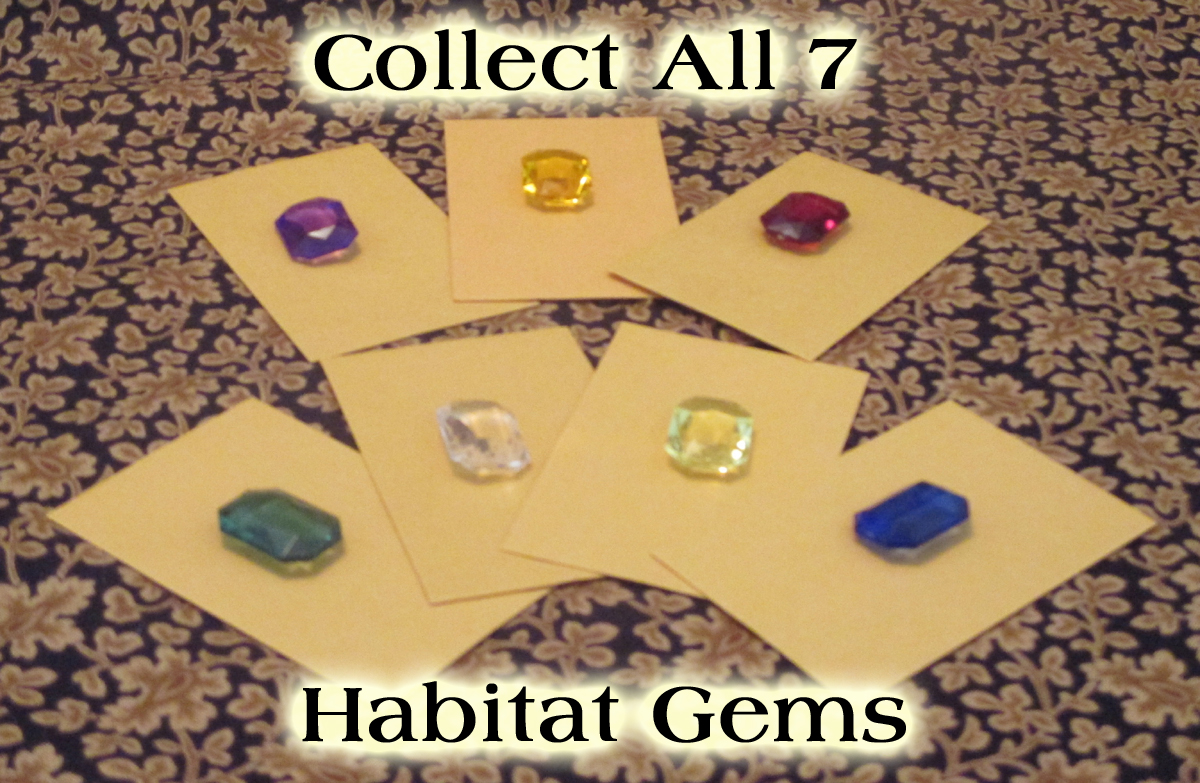 This adventure hunt was designed with the whole family in mind. Some activities are great for younger children…others for the older kids (that can sometimes be difficult to entertain at the zoo…) Grandparents and grandchildren will all be able to participate and contribute in the different tasks together. Small children can help look for clues and open envelopes. Teens will have fun during some of the more daring challenges.
Order your own Adventure Challenge NOW!
Click a link below for the zoo nearest you:
Alabama: Birmingham Zoo
Alaska: Alaska Zoo
Arizona: The Phoenix Zoo, The Tucson Zoological Society, Wildlife World Zoo and Aquarium
Arkansas: The Little Rock Zoo
California: The Fresno Chaffee Zoo, Happy Hollow Zoo, The Los Angeles Zoo, Micke Grove Zoo, The Oakland Zoo, The Sacramento Zoo, The San Diego Zoo, The San Francisco Zoo, The Santa Ana Zoo, The Santa Barbara Zoological Gardens, The Sequoia Park Zoo
Colorado: Cheyenne Mountain Zoo, The Denver Zoo, The Pueblo Zoo
Connecticut: Beardsley Zoo
Delaware: Brandywine Zoo
Florida: Brevard Zoo, Central Florida Zoological Park, Gulf Breeze Zoo, Lowry Park Zoo, The Miami Metrozoo, The Naples Zoo at Caribbean Gardens, The Palm Beach Zoo at Dreher Park, Emerald Coast Zoo
Georgia: Zoo Atlanta
Hawaii: The Honolulu Zoo, Pana Ewa Rainforest Zoo
Idaho: The Zoo Idaho, Idaho Falls Zoo, Zoo Boise
Illinois: Brookfield Zoo, Henson Robinson Zoo, The Lincoln Park Zoo
Indiana: Black Pine Animal Park, The Columbian Park Zoo, The Fort Wayne Children's Zoo, The Indianapolis Zoo, Mesker Park Zoo, Potawatomi Zoo
Iowa:Blank Park Zoo
Kansas: David Traylor Zoo, Great Bend Zoo, Rolling Hills Zoo, Sedgwick County Zoo, Sunset Zoo, The Topeka Zoo
Kentucky:The Louisville Zoo
Louisiana: The Alexandria Zoo, The Audobon Zoo, The Baton Rouge Zoo, The Louisiana Purchase Gardens and Zoo
Maine: York's Wild Kingdom
Maryland: The Catoctin Wildlife Preserve and Zoo, The Maryland Zoo in Baltimore, The Salisbury Zoo
Massachusetts: The Capron Park Zoo, The Franklin Park Zoo, Stone Zoo, Zoo in Forest Park
Michigan: Binder Park Zoo, The Detroit Zoo/Belle Isle Aquarium, John Ball Zoological Garden, Potter Park Zoo
Minnesota: Como Zoo and Conservatory, The Minnesota Zoo
Mississippi: Jackson Zoological Park
Missouri: The Dickerson Park Zoo, The Kansas City Zoo, The Saint Louis Zoo
Montana: Zoo Montana
Nebraska: Henry Doorly Zoo, The Lincoln Children's Zoo, The Discovery Center Zoo
Nevada: The Las Vegas Zoo, Sierra Safari Zoo
New Jersey: The Bergen County Zoological Park, The Cape May County Park and Zoo, The Cohanzick Zoo, The Space Farms Zoo and Museums
New Mexico: The Alameda Park Zoo, The Rio Grande Zoo, The Spring River Park and Zoo
New York: The Bronx Zoo, The Buffalo Zoo, The Queens Zoo
North Carolina:The North Carolina Zoo
North Dakota: Chahinkapa Zoo, The Dakota Zoo, Red River Zoo, The Roosevelt Park Zoo
Ohio: Akron Zoological Park, The Cincinnati Zoo, The Cleveland Metroparks Zoo, The Toledo Zoo, The Columbus Zoo
Oklahoma: The Oklahoma City Zoo, The Tulsa Zoo
Oregon: The Oregon Zoo
Pennsylvania: The Elmwood Park Zoo, Erie Zoo, The Lehigh Valley Zoo, The Philadelphia Zoo, The Pittsburgh Zoo and Aquarium
Rhode Island: Roger Williams Park Zoo
South Carolina: Greenville Zoo, Hollywild Animal Park, The Riverbanks Zoo and Garden
South Dakota: The Bramble Park Zoo, The Great Plains Zoo
Tennessee: The Chattanooga Zoo, Knoxville Zoological Gardens, The Memphis Zoo, The Nashville Zoo
Texas: Austin Zoo, Cameron Park Zoo, The Dallas Zoo, The Fort Worth Zoo, The Frank Buck Zoo, The Gladys Porter Zoo, The San Antonio Zoo, The Texas Zoo
Utah:Utah's Hogle Zoo
Virginia: Mill Mountain Zoo, National Zoo (DC), Virginia Zoological Park
Washington: The Port Defiance Zoo and Aquarium, Woodland Park Zoological Gardens
Wisconsin: Henry Vilas Zoo, The Milwaukee County Zoo