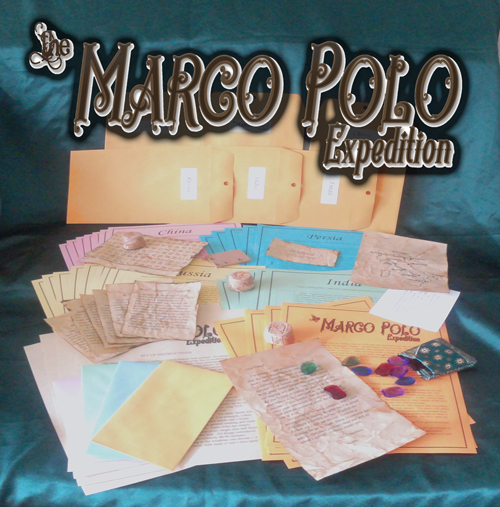 The Marco Polo Expedition -
City-Wide Hunt Adventure

The Marco Polo Expedition – City-Wide Hunt Adventure is a city-wide scavenger hunt contained all within the city limits of your local city. There are six mini missions to take on requiring you to seek out specific places and objects within your city and complete specific tasks.

But that's just the beginning…

Once you complete a mini-mission, you'll be able to open one of the six Marco Polo Expedition story envelopes - an elaborate, puzzle filled Choose Your Own Path adventure based on the ancient travels of Marco Polo - leading you to find some of his jeweled treasure. It's a full puzzle adventure contained INSIDE of a city-wide scavenger hunt.
There's so much to do with the Marco Polo Expedition – City-Wide Hunt Adventure that it can either fill an entire day or you can break up the fun into different 'episodes' completing different missions on different days. Simply pick up the story where you left off.

PLEASE NOTE: We currently have THREE different versions of our Marco Polo Expedition Adventure to best provide for the type of activity you're looking for:

Adaptable City-Area Adventure: (The version you're viewing now) This version is NOT specific to any one city (see below for city specific versions.) The locations to search out are not city-specific so this is a great option for those who'd like to take on the adventure but do not live near one of the 250+ adaptations we've already created.
Specific City-Wide Adventures: We've adapted the Marco Polo Expedition Adventure to work with over 250 different major US cities (see our Etsy store for the full collection. (See below for our list of over 250 US cities to choose from)
Marco Polo Adventure Hunt: This version eliminates the city-wide scavenger hunt portion and converts the Marco Polo story adventure into an actual treasure hunt (think National Treasure.) Instructions are provided to allow you to hide the story envelopes throughout your city/school/home/anywhere so that your participant(s) will travel from location to location to continue their story.

For more information on the Marco Polo Expedition portion, please see it's page HERE:
Frequently Asked Questions:

1. Q: Is this for adults or children?

A: We set out to create a treasure hunt adventure that was sophisticated enough for young teens through adults to enjoy. There are several fun treasure hunts out there that children can have fun with, but we thought it was about time for teens and adults to have something designed just or them.

2. Q: How does The Marco Polo Adventure arrive?

A: You'll receive a large envelope with everything you need contained inside – simple instructions, a few pages of mini-missions and six story envelopes. Nothing to set up – simply open and go.
3. Q: How long will it last?
A: A great many factors can contribute to this answer. If one were ONLY completing the story envelopes (without ever taking on the city missions, as example only) on average, we've found that if one takes the puzzles inside the story seriously there is approximately 60-80 minutes worth of fun. The bulk of the time will be spent as you travel throughout the city completing the mini-missions. No mission will require you to leave the city boundaries. The amount of time it will take to complete would depend on how well you know the city, driving speed, ability to search and intensity with which you take on the missions. At bare minimum, to complete every mini-mission will take several hours. This is why we've broken the adventure down into story segments and mini-missions so that you can get more out the adventure than a single day of fun.
4. Q: Can more than one person participate?
A: The Marco Polo Expedition – City-Wide Hunt Adventure was designed with a single 'team' in mind. Since there is only one set of instructions and materials, whoever is taking on the adventure needs to stick together during the activity. However, that doesn't mean that it has to the SAME group of participants each time (in the event you break up the adventure into different days.)
5. Q: How Covid-friendly is it?
A: We live in a very dynamic time. Although some interaction with others might make it more fun, every mission can be completed successfully without breaking any social distancing.
To order our Adaptable City Version of The Marco Polo Expedition
click HERE
To order The Marco Polo Expedition to be set up literally ANYWHERE,
click HERE
To order The Marco Polo Expedition City-Wide Hunt for a specific city,
see the list below
Order your own City Adventure Challenge NOW!

Alabama: Birmingham, Huntsville, Mobile, Montgomery, Tuscaloosa, Daphne, Decatur, Dothan, Hoover
Alaska: Anchorage
Arizona: Phoenix, Tucson, Prescott, Lake Havasu, Flagstaff, Yuma, Avondale, Buckeye, Chandler, Gilbert, Glendale, Goodyear, Mesa, Peoria, Scottsdale, Surprise, Tempe
Arkansas: Little Rock, Fayetteville, Fort Smith, Conway, Jonesboro, Rogers, Springdale
California: San Diego, Hollywood, Santa Barbara, Sacramento, Fresno, San Jose, Bakersfield, Modesto, Vallejo, Salinas, San Luis Obispo, Merced, Santa Cruz, Chico, Alameda, Alhambra, Anaheim, Antioch, Apple Valley, Baldwin Park, Berkeley, Brentwood, Buena Park, Burbank, Camarillo, Carlsbad, Carson, Chula Vista, Cirus Heights, Clovis, Concord, Costa Mesa, Cupertino, Dale City, Davis, Diamond Bar, Downey, El Monte, Elk Grove, Escondido, Fairfield, Fontana, Fountain Valley, Fremont, Fullerton, Garden Grove, Glendale, Hawthorne, Hayward, Hesperia, Huntington Beach, Inglewood, Irvine, Jurupa Valley, Lakewood, Lancaster, Livermore, Lodi, Manteca, Menifee, Milpitas, Moreno Valley, Napa, Newport Beach, Norwalk, Novato, Oceanside, Ontario, Orange, Palm Desert, Palm Springs, Palmdale, Pasadena, Petaluma, Pittsburgh, Placentia, Pleasanton, Pomona, Rancho Cordova, Redding, Richmond, Rocklin, Roseville, San Leandro, San Marcos, San Mateo, San Rafael, San Ramon, Santa Ana, Santa Clara, Santa Clarita, Santa Maria, Santa Monica, Santa Rosa, Santee, Simi Valley, South Gate, Stockton, Sunnyvale, Torrance, Tracy, Tulare, Turlock, Tustin, Vacaville, Ventura, Victorville, Visalia, Vista, West Covina, Westminster, Whittier, Woodland, Yorba Linda
Colorado: Denver, Colorado Springs, Fort Collins, Boulder, Greeley, Pueblo, Grand Junction, Arvada, Aurora, Broomfield, Castle Rock, Centennial, Lakewood, Longmon, Loveland, Thornton, Westminster
Connecticut: Hartford, Bridgeport, New Haven, Norwich, Bristol, Danbury, Meriden, Milford, New Britain, Stamford, Waterbury
Delaware: Dover
Florida: Jacksonville, Miami, Tampa, Orlando, Sarasota, Daytona, Pensacola, Tallahassee, Naples, Ocala, Gainesville, Punta Gorda, Cape Coral, Clearwater, Coral Springs, Daytona, Deltona, Fort Lauderdale, Hollywood, Kissimmee, Lakeland, Melbourne, Miramar, Palm Bay, Plantation, Port St. Lucie, Sanford, St. Petersburg, Sunrise
Georgia: Augusta, Savannah, Columbus, Macon, Athens, Gainesville, Warner Robins, Valdosta, Albany, Alpharetta, Brookhaven, Johns Creek, Marietta, Roswell, Sandy Springs, Smyrna
Hawaii: Honolulu
Idaho: Boise, Couer d'Alene, Idaho Falls, Meridian, Nampa, Pocatello
Illinois: Peoria, Rockford, Champaign, Springfield, Bloomington, Aurora, Berwyn, Bolingbrook, Cicero, Decatur, Des Plaines, Elgin, Hoffman Estates, Joliet, Mount Prospect, Naperville, Normal, Oak Lawn, Oak Park, Orland Park, Palatine, Schaumburg, Skokie, Tinley Park, Waukegan, Wheaton
Indiana: Indianapolis, Fort Wayne, South Bend, Lafayette, Elkhart, Terre Haute, Bloomington, Anderson, Carmel, Fishers, Gary, Greenwood, Hammond, Kokomo, Muncie, Noblesville
Iowa: Des Moines, Davenport, Cedar Rapids, Iowa City, Cedar Falls, Sioux City, Ames, Ankeny, Council Bluffs, Dubuque, Waterloo
Kansas: Wichita, Topeka, Lawrence, Lenexa, Manhattan, Olathe, Overland Park, Shawnee
Kentucky: Louisville, Lexington, Evansville, Bowling Green, Fort Knox, Owensboro
Louisiana: New Orleans, Baton Rouge, Lafayette, Shreveport, Lake Charles, Houma, Monroe, Alexandria, Bossier City, Kenner
Maine: Portland, Bangor
Maryland: Baltimore, Salisbury, Hagerstown, Bowie, Frederick, Gaithersburg, Rockville
Massachusetts: Boston, Worcester, Springfield, Barnstable Town, Brockton, Cambridge, Chicopee, Fall River, Haverhill, Lawrence, Lowell, Lynn, Malden, New Bedford, Newton, Peabody, Quincy, Revere, Somerville, Tauton, Waltham, Weymouth Town
Michigan: Detroit, Grand Rapids, Lansing, Flint, Ann Arbor, Kalamazoo, Saginaw, Muskegon, Niles, Monroe, Battle Creek, Dearborn, Kent, Kentwood, Livonia, Novi, Pontiac, Royal Oak, Saginaw, Southfield, Sterling Heights, Taylor, Troy, Warren, Westland, Wyoming
Minnesota: Minneapolis, Duluth, Rochester, St. Cloud, Apple Valley, Blaine, Brooklyn Park, Burnsville, Coon Rapids, Eagan, Eden Prairie, Lakeville, Maple Grove, Minnetonka, Plymouth, St. Paul, Woodbury
Mississippi: Jackson, Gulfport, Southaven
Missouri: Kansas City, St. Louis, Springfield, Columbia, Joplin, Jefferson City, Blue Springs, Florissant, Independence, Lee's Summit, Missoula, O'Fallon, St. Joseph, St. Peters
Montana: Billings, Great Falls
Nebraska: Omaha, Lincoln, Bellevue, Grand Island
Nevada: Las Vegas, Reno, Carson City, Henderson, Sparks
New Hampshire: Manchester, Nashua
New Jersey: Trenton, Atlantic City, Vineland, Camden, Clifton, Elizabeth, Hoboken, Jersey City, New Brunswick, Newark, Passaic, Paterson, Perth Amboy, Plainsfield, Union City, Bayonnee
New Mexico: Albuquerque, Las Cruces, Santa Fe, Rio Rancho
New York: Buffalo, Rochester, Albany, Syracuse, Utica, Binghamton, Kingston, Hempstead, Mount Vernon, New Rochelle, Schenectady, White Plains, Yonkers
North Carolina: Charlotte, Raleigh, Greensboro, Salem, Durham, Fayetteville, Asheville, Hickory, Wilmington, Jacksonville, Rocky Mount, Cary, Chapel Hill, Concord, Gastonia, High Point
North Dakota: Fargo, Bismark, Grand Forks
Ohio: Columbus, Cincinnati, Toledo, Dayton, Cleveland, Akron, Youngstown, Canton, Elyria, Hamilton, Kettering, Lakewood, Lorain, Parma, Springfield
Oklahoma: Oklahoma City, Tulsa, Broken Arrow, Edmond, Enid, Lawton, Midwest City, Moore, Norman
Oregon: Portland, Salem, Eugene, Medford, Bend, Beaverton, Corvallis, Gresham, Hillsboro, Springfield, Tigard
Pennsylvania: Philadelphia, Pittsburgh, Allentown, Harrisburg, Scranton, Lancaster, York, Reading, Erie, State College, Lebanon, Bethlehem, Lancaster
Rhose Island: Providence, Cranston, Pawtucket, Warwick
South Carolina: Greenville, Charleston, Myrtle Beach, Spartanburg, Hilton Head, Florence, Rapid City, Mount Pleasant, Rock Hill
South Dakota: Sioux Falls
Tennessee: Nashville, Memphis, Knoxville, Chattanooga, Clarksville, Kingsport, Johnson City, Jackson, Morristown, Bartlett, Franklin, Hendersonville, Murfeesboro
Texas: Houston, San Antonio, Dallas, Austin, El Paso, McAllen, Killeen, Corpus Christi, Brownsville, Beaumont, Lubbock, Longview, Laredo, Waco, Amarillo, College Station, Tyler, Midland, Abilene, Allen, Arlington, Baytown, Bryan, Carrollton, Cedar Park, Conroe, Denton, DeSoto, Edinburg, Euless, Flower Mound, Frisco, Garland, Georgetown, Grand Prairie, Grapevine, Harlingen, Irving, League City, Lewisville, Mansfield, McKinney, Mesquite, Mission, Missouri City, New Braunfels, Odessa, Pasadena, Pearland, Pflugerville, Pharr, Plano, Port Arthur, Richardson, Round Rock, Rowlett, San Angelo, Sugar Land, Victoria
Utah: Salt Lake City, Ogden, Provo, St. George, Logan, Layton, Lehi, Orem, Taylorsville, West Jordan, West Valley City
Vermont: Burlington
Virginia: Virginia Beach, Washington DC, Richmond, Roanoke, Lynchburg, Charlottesville, Winchester, Chesapeake, Harrisonburg, Newport News, Norfolk, Portsmouth, Suffolk
Washington: Seattle, Olympia, Spokane, Kennewick, Bremerton, Yakima, Bellingham, Auburn, Everett, Federal Way, Kirkland, Marysville, Pasco, Redmond, Renton, Richland, Sammamish, Shoreline, Tacoma, Vancouver
West Virginia: Huntington, Charleston
Wisconsin: Milwaukee, Madison, Green Bay, Appleton, Racine, Oshkosh, Eau Claire, Janesville, Wausau, Kenosha, La Crosse, Waukesha, West Allis
Wyoming: Casper, Cheyenne
"We had SO MUCH FUN!!!!...Highly recommend and I WILL be buying others. They are very friendly and responsive as well."
- Kylie C.
"This quest was extremely fun...I WILL be purchasing this quest again. I 100% recommend! Thank you, Quest Adventures!"
- Bethmarie


"We had SO MUCH FUN!!!!...Highly recommend and I WILL be buying others. They are very friendly and responsive as well."
- Kylie C.
"This quest was extremely fun...I WILL be purchasing this quest again. I 100% recommend! Thank you, Quest Adventures!"
- Bethmarie